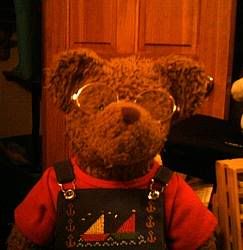 My mom finished my coveralls
today
! I'm pretty proud of them. She's been making lots of clothes for Chloe, and I felt left out. Now she's made me these great coveralls. They've even got buckles!
I wanted to share with you a book that Mom brought home for us a while ago. It's called
Zen Shorts
, and it is by a man named Jon Muth. It is a series of interconnected short stories about different Zen principles. It has beautiful watercolor illustrations. The main idea of the story is that a panda named Stillwater moves into the backyard of three siblings. They all visit Stillwater, and he tells them a story. It is a very well written and impressively illustrated book. It is much worth anyone's time, no matter their age.