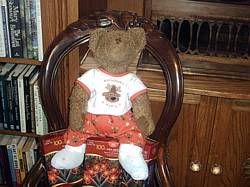 Today, I got to help put the
Christmas
tree lights on one of my Mom's
Christmas
trees. I had a lot of fun. This
Christmas
tree is a lot bigger then I am, so I had to let Mom help me. But I put the lights on, and arranged them so they looked nice. We waited for Mom's mom to put on ornaments. Maybe that'll be tomorrow's project!
The lights that were on the tree weren't working. So Mom and I had to take them all off. That was a lot of work! They were pushed to the center of the tree, so we had to pull them out of branches. Since it is an artifical tree, the branches kept on coming out too!
Then we put on all the new lights, and arranged them just so. I want to help put the ornaments up. This tree has a lot of bird ornaments, glass ornaments, bells, and metal horns. It's really festive. I like decorating for Christmas. Mom and Grandma have a smaller tree that is more my size too. I hope that I can help fix that one. One strand of lights on that tree are out too. Mom and Grandma have to buy new lights with green wires. I don't know why it matters so much, but Mom thinks so! So we've got to wait!
Mom got to stay home today. Besides putting up the Christmas tree lights, we cooked lunch and napped. I watched her put ribbons on a new dress for Chloe too. I like it when she is at home. She's got to go to work tomorrow, but she has the whole weekend off!