Mom tells me that she'll update my blog later. And when I ask her to help me, she says that she'll help later. Later, later, later, later, later.. It's a mom thing. I don't hold it against her. It's just much easier for her to type then me! It takes a long time when you've got to type one letter at a time. Capital letters are even worse! Oh well, bear paws have their uses too!
Things have been pretty quiet around here lately. Mom has been working a lot, so we don't get to go outside as much as we used to. She did help us all go outside when she had to water all the plants on the porch a few days ago. The sun was very nice. I do admit that I like being in the air conditioned house the most though. Teddy fur keeps you warm in the winter, but it can make you awfully hot in the summer too!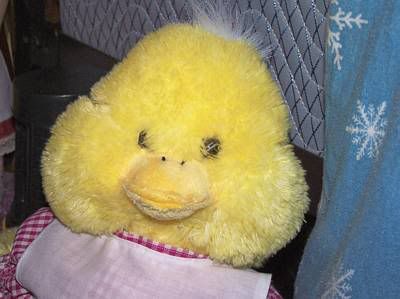 Opal, one of the Build-a-Bear friends that Mom has brought home recently, had a little ouchie today. One of the strings that holds her toes together disappeared! Mom had to sew it back together! It was pretty quick, but Opal said it hurt! Mom gave her lots of encouragement and hugs though, so now she's okay. (Opal is a chicken!) Mom wrapped her foot up so it wouldn't get hurt again until the stitch heals. She's going to be all right, but we all worried about her!